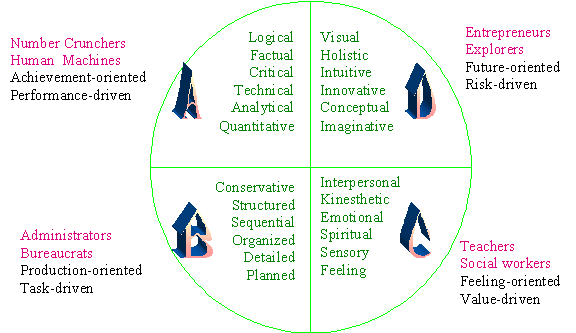 Figure 1. Four-quadrant model of the human brain.


Professions requiring Quadrant A dominance are those of lawyers, engineers, computer scientists, analysts, bankers, and physicians, practicing external activities. Quadrant B dominant professions, with procedural activities, are those of administrators, tactical planners, bureaucrats, and bookkeepers. Teachers, nurses, social workers, and musicians are interactively involved with people and are dominated by quadrant C thinking. Entrepreneurs, explorers, playwrights, R&D personnel, detectives, and artists are dominated by Quadrant D thinking (internal creativity).

At an individual level, one can obtain mastery in any of these quadrants by continuing applications. However, an organization exists by whole-brain thinking and planning. Diversity is a byword by which to create an organization.  The making of an organization, therefore, requires a diverse group of people each with strong bents in one of the four quadrants, but with a considerable overlap to interact with people with dominance in other quadrants. Explorers and detectives define the problem and explore the markets. Artists create ideas that can be translated into reality by engineers by careful evaluation. A producer will implement the solution, e. g., in manufacturing environments. Leaders emerging from these self-directed work teams turn out to be effective and efficient strategic planners. They facilitate interaction so that creativity will flourish and provide an environment for ideas and technology convergence. Such leaders comprise knowledge organizations having a multinational character.

Leadership in a knowledge organization deals with direction (production capability) while management deals with speed (production). Leaders derive their strength from top line: vision, mission, values, effectiveness, and moral principles and are dominated by Quadrant D thinking. They develop this thinking by their own effort and in their own style after going through stages of quadrants A, B, and C, usually in the same order. A manager (Quadrant B thinker) persists in dealing with routine factors (bottom line): efficiency, cost-benefit analyses, logistics, methods, procedures and policies. A courageous leader will climb on the tallest tree in a jungle (unknown territory) and cry: "wrong jungle!" even though he is advised to be quiet as his team cruises through the wrong jungle and progress is reported in terms of mileage covered. In short, a manager persists in doing things right at several points of time, while a leader is immersed in developing processes that will do the right thing at the outset, eliminating recurrent troubles that may drive an organization to a point of bankruptcy.

TRANSFORMATION—RENEWAL

According to the management guru Tom Peters, every organization has Brahma—the Creator, Vishnu—the Preserver and Shiva—the Destroyer (of ignorance!). Once an organization is created, Vishnu takes over. Within a few years of creation, most organizations lose sight of their mission and essential role. They become focused on efficiencies or doing things right rather than on effectiveness or doing the right things. In any organization, it is Shiva who is to be protected to enhance effectiveness and destroy obsolete practices so that the renewal takes place. In making a case for renewal processes, Stephen Covey17 of The Habits of Highly Effective People strongly advises to moving from dependence to independence and on to inter-dependence. It is inter-dependence that is highly valued in a world where information travels at the speed of light. This inter-dependence can truly teach us the value of teamwork in a multicultural and multilingual world. In defining this inter-dependence, Deepak Chopra18 in his book Seven Laws of Spiritual Success defines success as much more than wealth. True success means material and financial wealth, and enjoyment of life's journey, continued expansion of happiness, and the progressive realization of worthy goals.

A fully functioning global person with a knowledge of the self, the job, the organization, the environment, and the world can very well understand the value of developing strategic technology and with this knowledge develops the power of sound decision making. A principle-centered training in this paradigm is a process—not a product. The process follows an engineering model—first, gather and diagnose the data; second, select priorities, values, and objectives; third, identify and evaluate alternatives; fourth, plan and decide on action steps; and fifth, compare results with original goals and objectives. Nishkam Karamyoga is a discipline of work without a desire for material benefits. It teaches us that we should do our work because it is a good thing to do. Our reward is not in results, but in the doing. We should not fear failure or crave success. We should just enjoy the total immersion in work. The practice of this principle, without the sole motive of reaping fruits here on earth or in heaven, is the highest form of professional excellence. Strategic leadership is, therefore, not an act, it is a habit of managing ideas (brainware) for personal and professional development.

CONCLUSIONS

We have shown that knowledge-based organizations, e. g. universities, will be required to transform ways to develop and use technologies creatively for the benefit of humanity, not only in local domain, but also in global domain as well. Measuring outcomes of these changing paradigms is a challenge for engineer-leaders of tomorrow. A strategic thinker must have the vision to see where technologies can merge to create useful products or technologies of the future (converging technologies). A planning process led by a visionary—espoused in the whole-brain thinking paradigm—will not only satisfy industrial needs of the day but yet will be rigid enough for fundamental human values. As a single person is unlikely to have all the desirable traits, the concept of self-directed work teams (SDWTs) based on a shared-value system, as proposed, will not only make an organization efficient (rate of throughput), but also effective (long-term retention of creativity). An SDWT can view a technological development as a development of a seamless coherent system with interconnected levels or stages. Theory of Constraints framework allows one to identify bottlenecks that are inhibiting the throughput of an organization. Absence of a creative environment is one possible bottleneck.

Creativity is breaking the conventional mental blocks and playing with imagination and possibilities. For twenty-first century organizations to be successful will require synthesis of ideas from various disciplines, thereby capitalizing on and contributing to each participant's CREATIVITY: Combine, Reverse, Expand, Alter, Tinier, Instead of, Viewpoint change, In another sequence, To other uses, and Yes! yes! (affirm new ideas). We have shown that whole-brain thinking can enhance creativity that gives us new paradigms to engineer the direction of the organization we now work for, will work for, or will create for others to work for. Technocracy and entrepreneurship put together will make engineer-leaders ready for and responsive to the needs of global society and hence will aid us in the strategic development of an organization, a nation, and the world. The Digital Divide existing between poor and prosperous nations can hopefully be filled by a creative use of the brain bank by outstanding professionals so developed. In addition to enhancing standard of living, these professionals will form the nucleus in enhancing the standard of life of all around them. Engineer-leaders of the twenty-first century will be transformational (people-oriented) as distinct for transactional (task-oriented).

REFERENCES

†Permanent Address: Department of Electrical and Computer Engineering, Wilkes University,Wilkes-Barre, PA 18766, U. S. A. E-Mail: varora@wilkes.edu




1. Augustine, Norman, Augustine's Travels: a World-Class Leader Looks at Life, Business, and What it Takes to Succeed at Both, AMACOM,New York, 1998.




2. Lumsdaine, Edward and Monica, Creative Problem Solving, McGrawHill, New York, 1995.




3. Covey, Stephen, Principles-Based Leadership, Simon and Schuster, New York, 1990.




4. Arora, Vijay K., "Integration of Liberal Arts, Management, and Technical Skills for Professional Development," CD-ROM (Session 3261), Proceedings of 1998 Annual Conference of the American Society for Engineering Education, Seattle, WA, June 28-July 1, Session 3261, paper 1.




5. Arora, Vijay K. and Choudhry, Vasundhra, "Integration of Liberal Learning Skills with Engineering Design Skills in Microelectronic Fabrication," International Journal of Applied Engineering Education 7(3), p. 231, 1990.




6. ABET Homepage, www.abet.org.




7. Adams, Scott, The Dilbert Principle: A Cubicle's-Eye View of Bosses, Meetings, Management Fads & Other Workplace Afflictions, Harper Business, New York, 1996.




8. Neumark, David and Adams, Scott, Do Living Wage Ordinances Reduce Urban Poverty?, National Bureau of Economic Research, Cambridge, Massachusetts, 2000.




9. Mertzman, R., and Madsen, P., Ethical Issues in Professional Life, Center for the Advancement of Engineering Ethics, Carnegie-Mellon University, Pittsburgh, PA, 1992.




10. Goldratt, Eli M. and Cox, Jeff, The Goal: A Process of Ongoing Improvement, North River Press, 1992.




11. Goldratt, Eli M., It's Not Luck, North River Press, 1994.




12. Goldratt, Eli M., Critical Chain, North River Press, 1995.




13. Levinson,  W., Leading the Way to Competitive Excellence, ASQ Quality Press, Milwaukee, Wisconsin,1998
14. Yuzuriha, T., How to Succeed as an Engineer: A Practical Guide to Enhance Your Career, J&K Publishing, Vancouver, Washington, 1998.




15. Bennett, F. L., The Management of Engineering: Human, Quality, Organizational, Legal, and Ethical Aspects of Professional Practice, John Wiley, 1996. 




16. Fogler, H. S. and LeBlanc, S. E., Strategies for Creative Problem Solving, Prentice-Hall, 1995.




17. Covey, Stephen, 7 Habits of Highly Effective People, Simon and Schuster, New York, 1989.




18. Chopra, Deepak, The Seven Spiritual Laws of Success, Amber-Allen Publishing, New York, 1994.